Kopfjäger Leveling Head Manual (KJ89000)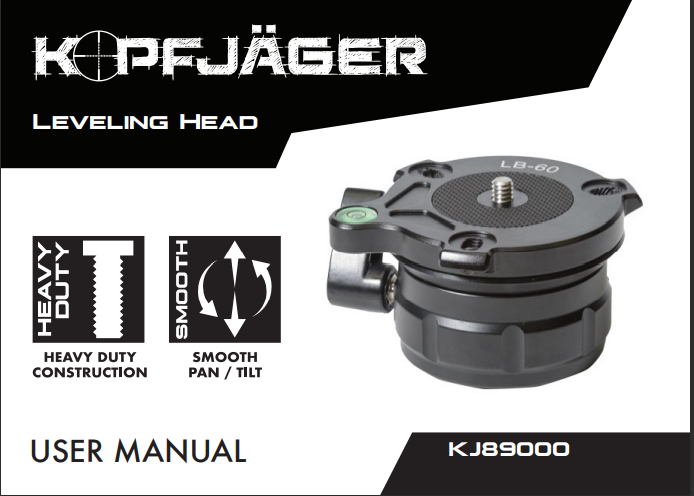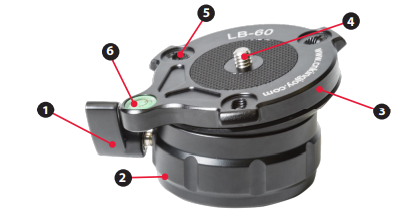 DIAGRAM:
1. Adjustment Lever
2. Leveling Base
3. Leveling Platform
4. Accessory Mounting Screw
5. Kimi Screws
6. Bubble Level
MOUNTING:
The Kopfjäger Leveling Head includes a built-in 3/8" threaded hole that mounts directly onto your
tripod or Reaper Rig, a 3/8" threaded adapter and an allen wrench.
To mount:
1. Find the threaded screw hole on the bottom of the Leveling Head accessory. Thread the Leveling
Head onto your tripod or Kopfjäger Reaper Rig's 3/8" threaded base. Note: if you're tripod has a
1/4" threaded stud, use the included 1/4" thread adapter.
2. Thread your camera, optic or accessory onto the Leveling Head's 1/4" threaded stud. If your
accessory requires a 3/8" stud, use the included adapter. Note: The leveling head only includes a
single 1/4" to 3/8" adapter.
3. Once your accessory is mounted, use the included Allen wrench to tighten Kimi screws under the
base of your accessory. Tightening the Kimi screws in contact with your accessory prevents
loosening.
OPERATION:
With the Leveling Head mounted on your tripod or Kopfjäger Reaper Rig and accessory mounted on the
Leveling Head, you're ready to make adjustments.
To adjust:
1. Find the adjustment lever on the side of the Leveling Head. Turn the knob counter-clockwise to loosen.
2. Adjust the Leveling Head in any direction until you achieve your desired angle. Note: a multi-axis
bubble-level is embedded in the Leveling Head's mounting surface to ensure level positioning. For
perfect leveling, adjust until the bubble is positioned in the center of the level.
3. Once the desired angle is achieved, turn the adjustment knob clockwise to tighten and lock the
Leveling Head's position in place.
WARNING:
Before handling the Leveling Head, read and understand the contents of your tripod's manual, and the
Kopfjäger Leveling Head manual.
• Do not exceed the tripod's maximum load capacity. (see your tripod's manual)
• Ensure all platform mounts and joints, including ball-head, are tight before installing and using the
Leveling Head.
• Ensure the Leveling Head Adjustment Knob is tight when not being adjusted.
• Always remove camera, spotting scopes or other accessories from the Leveling Head during transport.
MAINTENANCE:
When exposed to dirt, dust or other residue, the Leveling Head may be cleaned using a soft cloth and
water, or a gun cleaning solvent. Maintain threads and tilt adjustment by applying a lubricant or grease
to those areas.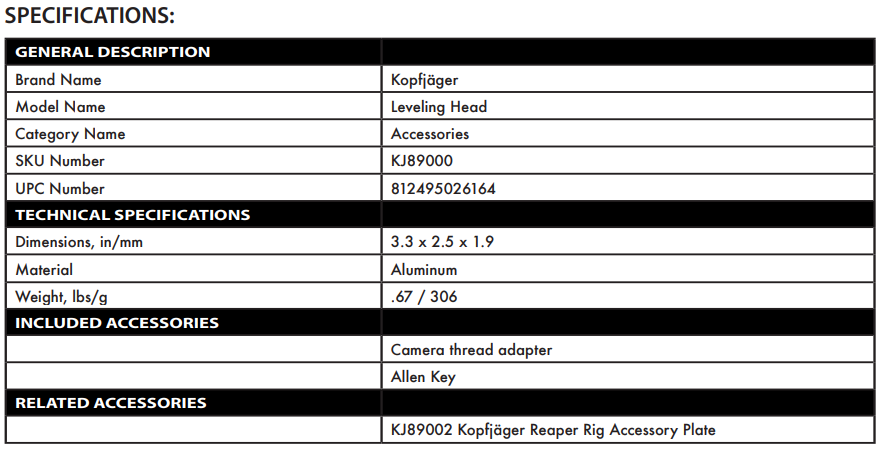 If you have any additional questions or concerns, please contact our Technical Support team by calling 817.587.6149 or fill out a Contact Us form here.