Kopfjäger Reaper Grip with Direct Mount Manual (KJ86006)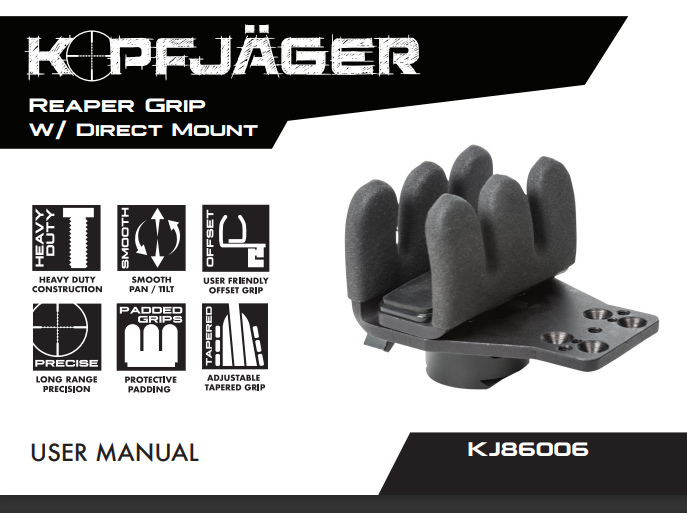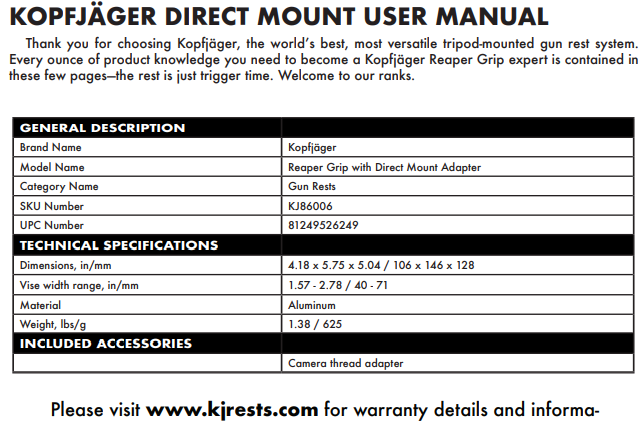 DIRECT MOUNT REAPER GRIP:
The Direct Mount Reaper Grip reduces the overall size and weight of our shooting rest system and gives
you the versatility to direct mount the Reaper Grip assembly to tripods with ball/leveling heads. The Direct
Mount Reaper Grip fits best on tripods with a 3/8"-16 threaded screw and center column that allows
rotation for horizontal panning. A 1/4"-20 adapter is provided for tripods or quick-release plates. Note:
vertical movement is limited but can be achieved by loosening the tightness of the Reaper Grip.
MOUNTING:
The Kopfjäger Direct Mount Reaper Grip threads directly onto your tripod's center column with 3/8"-
16 threads. For tripods with 1/4"-20 threaded studs, the Direct Mount Reaper Grip includes a thread
adapter.

SECURING A STOCK OR CHASSIS IN THE GRIP:
To secure a stock or chassis in the Reaper Grip, set the stock down into the Grip just forward of your
magazine well (this prevents obstructions of rifle components you may need to access). Hold the rifle
so the stock or chassis is resting completely at the base of the grip. Tighten the grip knob until the rifle
is secure. The Grip pivots to accommodate tapered stocks and chassis. The tops of the grips also curve
inward slightly, toward the interior of the grip. The curved grip is designed to pull and hold the stock or
chassis down into the bottom of the grip.
WARNING:
Before handling the Reaper Grip, read and understand the contents of your tripod manual.
• Do not exceed your tripod's maximum load capacity. (see your tripod manual.)
• Ensure the Direct Mount is fastened tightly to your tripod.
• Ensure your firearm is gripped tightly and is secured at the bottom of the grip assembly.
• Always remove your firearm and accessories from the Reaper Grip during setup and before transporting.
If you have any additional questions or concerns, please contact our Technical Support team by calling 817.587.6149 or fill out a Contact Us form here.