Tripod Compatibility with Non-Kopfjager Products
Both of our Tripods, the K800 and K700 can be used with many different items including rest and grip systems, cameras and other optics. The center column adapter on the tripod utilizes a 1/4 inch threaded bolt for attaching Rest systems and any other size-compatible accessories the market may offer. The 1/4 inch threaded bolt is a fairly universal size across the Camera, Monocular and Binocular markets. It can also be unscrewed and flipped 180 degrees to utilize the 3/8 inch threads, giving our tripods even more universal applications.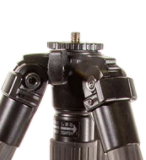 Any type of attachment system that utilizes the same size threaded bolt receiver is compatible with our tripods. Our Reaper Grip and Reaper Rail Arca Swiss systems were designed for optimum sturdiness and durability in conjunction with our tripods.